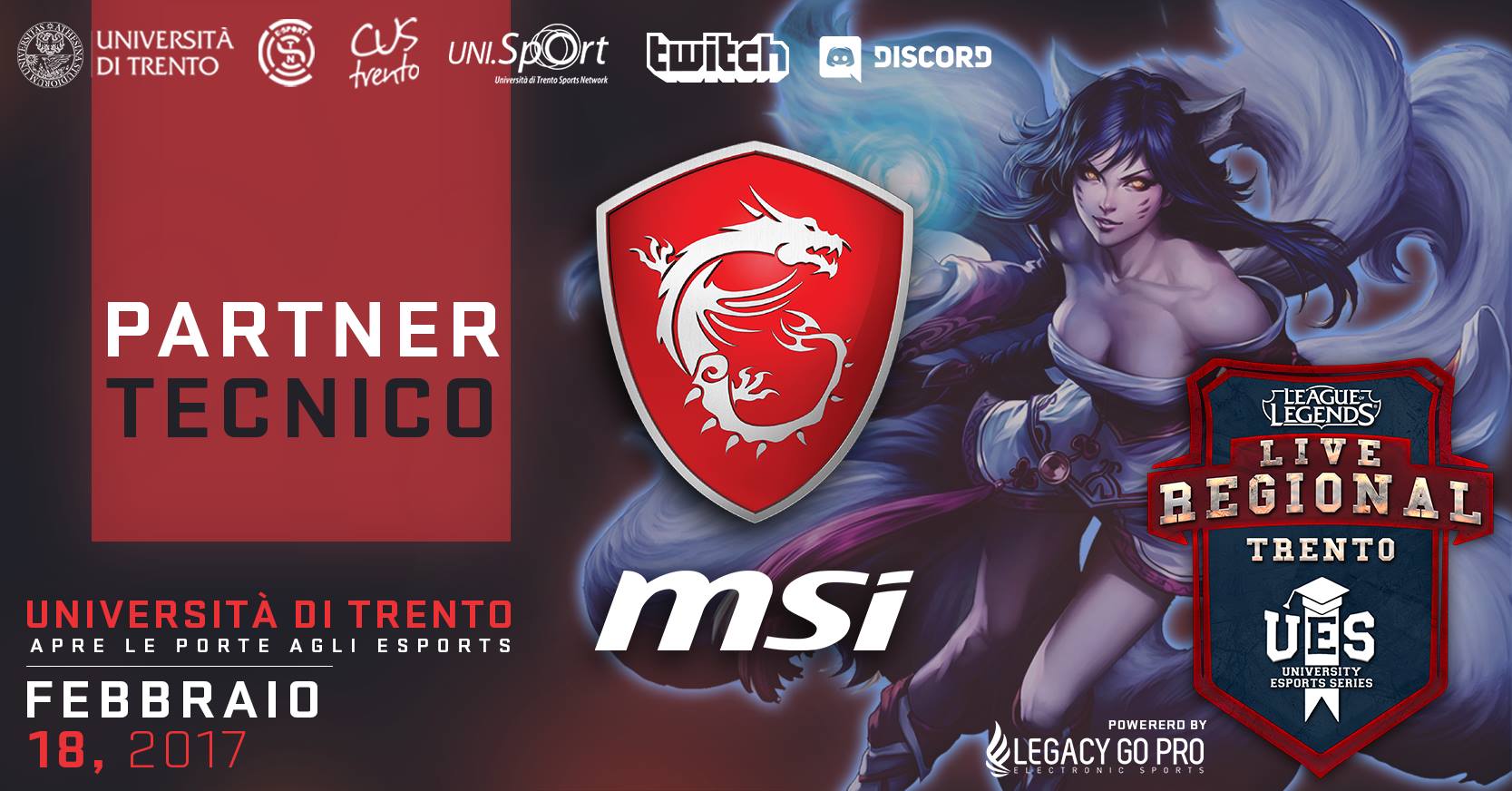 Description
Siamo lieti di annunciarvi il primo evento dell'University Live Event Program: il Live Regional Trento, un evento pensato dagli studenti per gli studenti!

Questo Regional coinvolgerà per la prima volta i giocatori delle maggiori università del Nord-Est Italia (Trento, Padova, Verona, Brescia, Bergamo, Venezia) in un torneo di League of Legends che vedrà la finale dal vivo il 18 febbraio 2017, presso l'auditorium dell'Università degli Studi di Trento, nel Dipartimento di Lettere e Filosofia.

Siete tutti invitati a partecipare a questo fantastico evento del 18 febbraio che, ancora una volta, vedrà le porte dell'Università spalancate al mondo dell'esports!

L'evento sarà completamente GRATUITO ed aperto a TUTTI, ma veniamo al programma:

Ore 11:00 Benvenuto/Presentazione University Esports Series
Ore 11:30 Talk Esports/Business
Ore 12:00 Quiz sulla scena esports universitaria italiana e nel mondo
Ore 13:00 Presentazione delle squadre universitarie
Ore 13:30 Finale del Torneo Regional Trento - Bo3
Ore 16.30 Premiazione
Ore 17.00 Attività
Ore 18.00 Saluti

Non conosci League of Legends? Questa sarà l'occasione giusta per provare il gioco più giocato al mondo e introdurti alla community universitaria per condividere le tue passioni!

Non mancheranno attività di coinvolgimento del pubblico con tanti gadget esclusivi!

L'evento è in collaborazione con Legacy Go Pro, CUS Trento e UNI.Sport - Università di Trento Sports Network.
Location
università degli studi di Trento
trento
Italy