{{blogList.blogTitle}}
Gaming ist bei MSI Teil unseres Lebens, und wir wollen unsere Leidenschaft zum Thema Gaming und Hardware mit euch teilen. Dazu haben wir eine neue Serie namens "MSI Pro Talk" ins Leben gerufen. Bei MSI Pro Talk interviewen wir Gaming- und E-Sport-Promis. Soe "Soembie" Gschwind ist Host dieser neuen Serie und interviewt professionelle Gamer, Modder, Overclocker und andere Gaming-und Hardware-Promis.
Die erste Folge des  MSI Pro Talk ist ein Interview mit dem weltbekannten Dota2 Kommentator und E-Sports-Veteran Toby "TobiWan" Dawson. Soe und TobiWan beantworten Live Fanfragen, die über Twitch oder bei Reddit gepostet wurden.
Unter dem Video ist ein Teil des Interviews als englische Transkription verfügbar. Inhalt der Transkription sind TobiWans derzeitige Projekte, seinen Job als Kommentator und seine ersten Schritte in die E-Sports Community. 
Die Zuschauer hatten außerdem die Möglichkeit gehabt, während des Boradcast tolle Preise zu gewinnen, wie den MSI Plüschdrachen oder eins der brandneuen Z97A Gaming 6 Mainboards!
[caption id="attachment_11992" align="aligncenter" width="900"]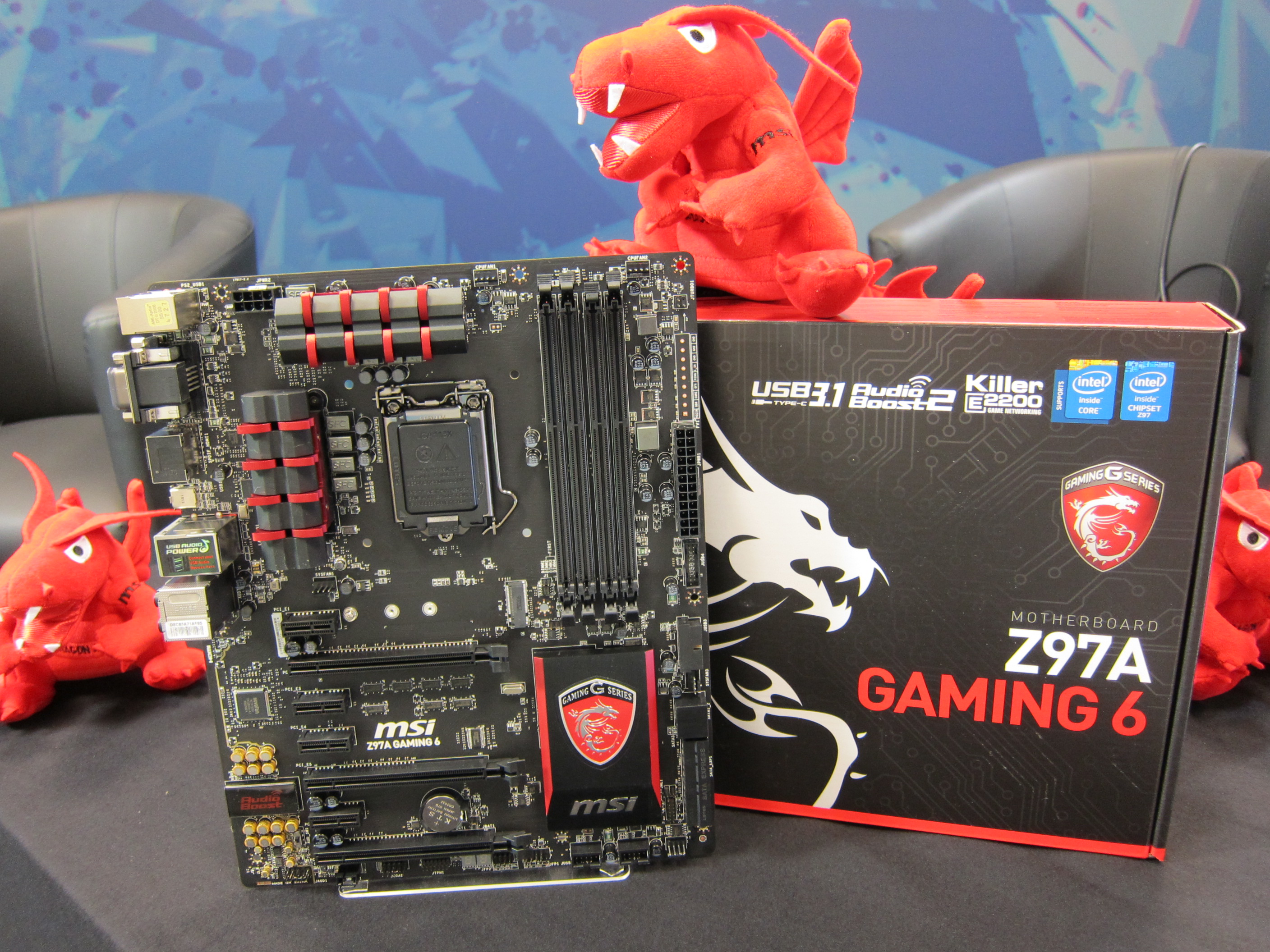 MSI Z97A GAMING 6[/caption]
MSI Pro Talk 1 Recap Video
[embed][/embed]
----
Soe:
How are you doing? How has your past few weeks been? You've been fairly busy doing a lot of events I've seen.
TobiWan:
Yeah, there was a lot of things I have been travelling around. If we go back two weeks, I was actually in Romania doing CS:GO, and we had just over the weekend in here our own offices the D2CL finals. And a whole bunch of other things like qualifiers for ESL 1, everything under the sun. It's been a pretty hectic time, and it's going to remain so as well. I think I've been in 5 or 6 countries within the next 2 months, so yeah it's a pretty busy time.
Soe:
Busy schedule. Now for everyone not knowing who TobiWan is, TobiWan is working as a caster for JoinDotA, that's one of the projects from Freask4U Gaming. Now maybe explain yourself what you have been doing?
TobiWan:
Well I don't do anything really. I sit in front of a camera, I do some things and I talk. It's most of what most people think I do, but I do a lot of other stuff behind the scenes. A lot of it is pretty hard to quantify, I'm just there, and I am always just turning some cogs and wheels and such. But primarily I am a commentator.
Soe:
Okay so you commentate for gaming/eSports. Is that something you have always been interested in? And how long have you been working in this field?
TobiWan:
Well actually, no I wasn't fully interested in being a gaming commentator. Actually, I was going to be a tech-studies teacher. A little bit of a change. But yeah, I kind of found myself going down this path due to some volunteer stuff I did and eventually it looked a hell of a lot better. I always liked listening to commentators back in the day, for all of the Australian sports I was watching. It was very comfortable for me to go into commentary.
Soe:
So how long have you been doing it now as a caster?
TobiWan:
I think it's been seven or eight years now. Might even be a little bit longer than that, because I did a little bit on and off as a volunteer, and full-time it's been four years.
Soe:
When you first casted, what was your setup like? Was it something very expensive - did you have to save up to become a caster? What was the original machine you had?
TobiWan:
My initial setup was with a computer I managed to convince my parents to buy, which was one of the dodgiest pieces of "things" that could have ever been purchased.  It was one of the worst celeron cores, it didnt have any kind of sound card, it came from the onboard, and I tried to do my first broadcast with windows sound recorder as the recording program, this was way way way back before you had any video recording possibilities or anything like that. And it was an audio-quality recording going out, and I had horrendous bandwidtch which actually ended up costing us money too because you had to pay for the service back in those days. it was a really really bad PC, a horrendous mic, but I had 52 people tuning in. The second you hit 3-digits, you think you've hit the big-time.
When my videos had more than 1,000 people watch them, I thought "omg that was crazy" because that was before we thought we could just use YouTube right? It was actually before....but I don't want to actually say it was before YouTube was big, but kind of yeah...
I'm a little old-school guys...
So we ended up posting all of our videos on our own platforms which was one of our sponsors called AUSgamers at the time. So we hosted all of our videos there and streams there, and servers. So anyone out of Australia couldn't really watch it, because you'd have to connect to Australia and then wait for all of the data to be passed over to you. So it was kind of a dodgy setup, but that was how I started.
Soe:
You said you wanted to actually go into education, you ended up as a caster, was there something else you did in-between?
TobiWan:
Actually in-between not really. In-between was like wandering the baron wastelands of ideas of what I wanted to do with my life. Originally I wanted to be on stage, musical theatre. I then kind of felt it wasn't secure enough for me, or that I didn't have enough talent to go the full distance on that one. So I thought you know, I'll try and be a teacher. Because I felt I could do a really good job at that. And I wanted to be an engineering teachers. I didn't really get the highest grades, not really the smartest kid on the block.
So I didn't get into the course I wanted to do. So I found myself doing early childhood education which was very very weird. But I really liked that, so I ended up doing a bachelor of education in early childhood education as well. And basically became a trained teacher, and then thought "no wait, this isn't what I want to do" there were a lot of decisions, effects, opinions, that were flying around at the time. I didn't want to do this, it was really bad for me. I wanted to something where my passion is a lot more stronger, and gaming was it. I spent four years or five years trying to work out exactly where I wanted to go. Because throughout my time, including my studies time, I was always playing. I was playing in Australian ladders and such, so I was trying to work out "okay, this was a great time, this was the best part of my life was when I was playing games and competitive ladders." So I went trying to find that as a job. So I spent all of the time in the world trying to find the path to get to that point. And then I ended up making my own, because there wasn't any full-time commentators out there that had any level of respect or security. So yeah I kind of made my own path.
Soe:
How did that path look like? What did it start with?
TobiWan:
What did it start with? It was volunteer casting. It was doing Australian tournaments, did a lot of COD and some BF stuff as well. Travelling around to any LAN events in my hometown. I even did some Halo events because they were just there, and there was a great LAN in Brisbone called LAN SMASH that I would turn up to and we would bring our gear in the back of a car and set it up, and trying to hooked up to a projector. And there was a guy called JB there who really was the first one in Australia to help build any of the casting rigs. So we started with the audio casting, he was the first one to start experimenting with the video casting. Like he actually managed to create a casting rig for consoles in the back of a shopping trolley.
It was the only way you could get video feed in, so you didn't have these long cables running down to all these XBox's there. So instead he would wheel the entire setup, and the only long cables he had were the power and internet cables which would then plug in and stream everything out, for anyone who had enough bandwidth that could watch it. And he would just wheel this thing down the LAN and plug in and do all that. It was really ingenious. There was a lot of creativity in the first casting setups we created. Slowly and surely it built up and we got bigger events and bigger things and I travelled overseas, and it all really started off then.
Soe:
What was your most amazing gaming convention that you've ever gone to?
TobiWan:
I've gone to a hell of a lot of events. But there is always one. And I don't think anything will ever really top this because it was my first. It was the first because it was the World Cyber Games (WCG) in 2006 in Singapore for the Asian Championships and the Singapore Nationals. So it was the Singapore Nationals the first two days, and then the Asian Championships the next two days. That was my first time coming out of Australia since I was three years old. Which was when I went to England and almost died.
I went to this event and I saw the setup that was there. I saw all these sponsors, and this huge show, it almost felt like a circus when I walked in there. And the big stage that was up, and had everything nicely designed.
Soe:
Was there the "beyond the game"?
TobiWan:
I hated that song ever since WCG Vietnam when they streamed out the first DotA game there, and there was no commentators. Commentators refused to cast it. All they did for the audio was put that song on loop.
But yeah the event was the coolest thing ever in Singapore. It was the first time I really felt eSports and I felt other people were like me, where they really liked eSports. Because Australia is a really big place, you aren't really going to bump into someone on the street and they say "Oh yeah, I know eSports!". I worked in a gaming store. I was a retail manager in a place called JB Hi-Fi back in Australia, which kind of does everything. But I worked in the software department. People would come in and buy games and these were all the casual gamers and they didn't have any idea what eSports was. I'm like "oh, so you're buying Warcraft 3. Do you know about this game on it called DotA?" and people would just shrug and say "I'm buying it because I like blizzard stuff".
No one really knew about it. But then I came to WCG and everyone was there for it and that was for me the first kick saying "this is cool - this is what I want to be a part of".
Soe:
What are the next few things coming up for you?
TobiWan:
I have one event, which hasn't been announced yet.
In two weeks time we will be going to X-Games for the MLG Pro-league. That will be awesome. There are some other things coming up. I might be involved in the DreamHack DotA2 tournament, if Hellspawn wants to bring me over for that one. We have ESL 1 Frankfurt which is going to be massive. That's going to be awesome. And of course The International is only 2 months away.
Soe:
What was the first hero you ever played?
TobiWan:
My first ever hero was Drow Ranger. The funny thing is, I played DotA and I played it with a bunch of my CoD mates. And one of them was like "you've gotta play this hero, she's the best one you can start with" and this was back when Drow Ranger had 33% chance to get a last hit. And this was his reason for giving it to me, because you have a 33% chance of not fucking up the last hit. But then I very quickly learned of the Venomancer, and that he was a better hero to learn on. But Drow Ranger was my first hero.
Soe:
People have heard how you got started, but people might want to know how they can get started working in eSports?
TobiWan:
Well the first thing is go into an area that you feel competent in. Don't just say "oh yeah, I really like this". Unless you have some level of talent in it, I don't suggest you try that. Because if you try and go into eSports and you're not good at your job, you are probably never going to get paid for it, primarily because there is always going to be someone better than you who deserves the position. And there isn't a lot of money in eSports floating around, so you gotta try and come into a place that is definitely your strength as well as interest. That would be my best advice.
Soe:
How does a typical day for you look like?
TobiWan:
Everything belongs everywhere. There's no such thing as a typical day for a commentator because your schedule can change at a moment's notice. That can switch up, a meeting can get scheduled and you are coming in for that. You are trying to create as much structure in your life as possible, but when things get really really busy you throw structure out the window. And the only thing I try to keep consistent is I have one or two hours where it is just me-time in a day, so I can shut everything out and then restart the brain kind of thing. Because it doesn't happen when I sleep. I dream of eSports, its really bad.
But it can be anywhere from sitting in the studio, answering emails, talking on Skype, having meetings, travelling to LAN events, trying to cast very long days there, or short days. A lot of it is communication, that's it.
----
The discussion between Soe and Toby continues in Part 2 of this show. Future topics covered by the pair are JoinDOTA and the possibility of hosting another Defense event, tips for gamers looking to make a career out of eSports, and what Toby thinks makes the perfect eSports event. 
The audience who participated and have their own questions asked and answered, as well as win fantastic prizes, such as the Z97A Gaming 6 motherboard, or an MSI Dragon Plushy toy which were featured in the first episode of MSI Pro Talk.
You can keep a look out by following us @ MSI Global.